Promotion materials
These can be printed relatively cheaply at Staples Copy Centre (about 76¢ for the small poster and $1.39 for the large), much cheaper than using your inkjet.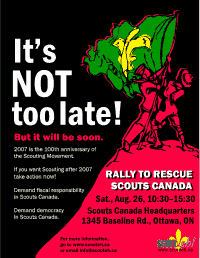 8.5×11″ Poster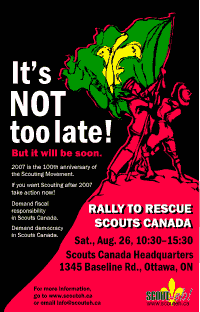 11×17″ Poster
It's NOT too late!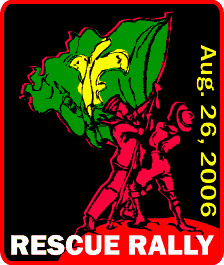 But it will be soon…
2007 is the 100th anniversary of the Scouting Movement
If you want Scouting after 2007 take action now!
Demand fiscal responsibility in Scouts Canada
Demand democracy in Scouts Canada
Join us for a Rally to Rescue Scouts Canada on Saturday, August 26, 2006 in Ottawa. This may be the last chance to save Scouts Canada from itself.
If you've just found out about this and want to know why we think there is a problem and why there isn't much time to tackle it, please read our pamphlet. For more information, see the articles in the news and resources sections.
A crest is being produced and we are now taking orders. The crest is now availble. The art can be seen above.
A special offer is available at the Harveys Restaurant on Baseline Road, Ottawa. It is located across the street and just east from Scouts Canada National HQ.
Members in Uniform may request the 15% employee discount. This will be available during the Rally on Saturday. The members should mention that the discount was arranged through the Oshawa Swiss Chalet manager Wiebe Bergsma.
| | |
| --- | --- |
| 09:00 | Set up. Organizing committee and early birds arrive at Baseline to set up the grounds for the day's events. |
| 10:00 | Opening Ceremony, including Flag Break, Scouters 5, National Anthem |
| 10:10 | Address by SCOUT eh! Chair |
| 10:25 | Information sessions on various topics. Governance, Scouts Canada Act, Program issues, Property issues, Financial issues. |
| 12:30 | Bar-B-Que lunch |
| 13:15 | Form up and parade around the HQ building. This is your Kodak moment, have your camera ready |
| 13:30 | Speakers and Town Hall |
| 15:30 | Closing ceremony and closing remarks |
| 15:45 | Clear off, clean up, and leave it better than we found it |
| 16:30 | Break off For Supper |
| 18:30 | Pre-campfire meet and greet at Rideau River Provincial Park |
| 19:00 | Campfire, Get your songs, stories, and skits ready. Radish and Gooseberries have been invited |
We will be camping at Rideau River Provincial Park, a short drive from Ottawa. Families are welcome.