EAST eh!
SCOUT eh! in Nova Scotia in March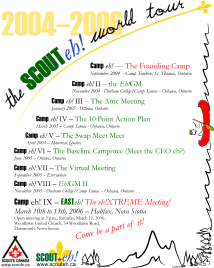 Join us for a SCOUT eh! Scouters' Conference on Saturday, March 11, 2006 in Dartmouth. We have confirmed attendees from five provinces. The three elected National Officers of SCOUT eh! will be there.
The program will provide opportunities to learn about and discuss the issues that are facing Scouting in Canada and in the Atlantic Provinces in particular. Your National Officers will report on their work and answer your questions. We will make plans for the future. In the evening, we will have a pot-luck dinner and socializing. Scouter Liam may even play his guitar. The final schedule will be posted here closer to the date.
SCOUT eh! members and anyone else who is interested are invited to come. Feel free to come for as much or as little of the meeting as you are able.
The National Officers will be in Nova Scotia from Friday, March 10 to Monday, March 13 to attend the conference and meet local Scouters.
Schedule for Saturday, March 11, 2006
The meeting will take place at Woodlawn United Church, 54 Woodlawn Road, Dartmouth, Nova Scotia. Please wear your uniform.
13:30
Doors Open; Meet and greet
14:00
Opening Ceremony
Herb Ripley
Address from SCOUT eh! Chair
Mike Reid
Report on Nova Scotia initiatives
Don Connors
15:00
Break
15:15
Discussion / Bear Pit — Members to speak their mind on issues, where we should be going, what we should be doing, what we should not be doing, what we can do better.
Dave Shaw / Mike Reid
17:30
Membership retention in Scout Troops — In recent years, much attention has been paid to membership recruitment, but little to keeping members coming back year after year. Recent research into programs has shown what aspects of the program are important for retaining members. While this research was conducted in the Scout section, section Scouters and others in program leadership positions in all sections will find these lessons useful for building better Scouting.
Liam Morland
18:00
Pot-luck dinner
19:00
eh! Night at the Movies: Scouts! (1983; 58 min.) — In this film, the ideas underlying the Scout Movement are explored through the life of Lord Baden-Powell and the history of the Movement to 1941. Includes the siege of Mafeking, interviews with Scouts from the original Brownsea Island camp, early short films about Scouting, World Jamborees, comparisons with the Hitler Youth, and extensive footage of BP and early Scouting.
Liam Morland
Discussion of the film — What does the history of Scouting tell us about what we should be doing now?
20:30
Formal Closing
Social time and indoor campfire
Bring your guitar and songbook, skit, or story
22:00
Safe Home